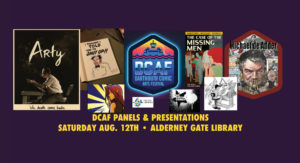 With the help of the Halifax Public Libraries, the Dartmouth Comic Arts Festival is having a day of comic book oriented presentations and information sessions in the Helen Creighton Room of the Alderney Gate Library.
11am Comic book film fest
• Monster Man: A short document of the many monsters in one man's closet. Directed by Nathan Boone
• Arty: Winner of the "best comics-oriented film" at the 2016 Comic-Con International Film Festival! Arty is a short film by Nathan Boone chronicling the career of a fictional cartoonist. Fate found Jewish-American war veteran Arty Green and threw him head first into the cogs of the American comics industry. Success found some, most were not so lucky. Life, death and comic books.
• Reid Fleming: the world's toughest milkman stars in "I thought I told you to shut up!" – a look at the creation of an iconic comic book character and the intricacies of the Hollywood landscape. Directed by Charlie Tyrell.
12 Noon Preview of "The Case of the Missing Men"
by Kris Bertin and Alexander Forbes
Nancy Drew meets David Lynch in this mystery thriller set in a remote and eerie east-coast village.
The Case of the Missing Men by Kris Bertin and Alexander Forbes arrives in bookstores this November, but you can get a look into the book's creation with the authors.
Kris Bertin and Alexander Forbes are childhood friends who trained in separate disciplines in order to reunite as adults and make comic books. Alexander Forbes is an artist and graduate of NSCAD, and Kris Bertin is the author of the short story collection Bad Things Happen (Biblioasis 2016). They are both from Lincoln, New Brunswick, and both live in Halifax, Nova Scotia.
1pm Mark Oakley
Join cartoonist Mark Oakley as he celebrates 10 years of "Stardrop," with the release of the third volume and a look back at the formation of the series as well as how Mark got into cartooning.
2pm Not-Webcomics
A comic, in its most simplified form, is a series of images used to convey a message. Now, comics are on the web, and some have careened off the deep end into tossed multimedia salads. They may not technically be "comics" anymore, but they are guaranteed to blow your mind.
Dawn Davis (Those Without Shadows) is here to introduce you to what she calls "webcomps", web compositions that use all the web has to offer. Story is the game, and what the authors use to tell it could be anything. From Ruby Quest to Homestuck and on to 17776, let's discuss webcomics 2.0, where they came from, and why they're so special.
3pm Ad Astra Comix
Hugh Goldring and Nicole Burton are one half of Ad Astra Comix, a publishing collective dedicated to comics with social justice themes. Founded in 2013, Ad Astra has published 4 full length titles with two more on the way in the latter half of 2017. Hugh and Nicole's first comic, 'The Beast' is about two NSCAD graduates who move to Alberta in search of work.
4pm Michael de Adder
Editorial cartoonist Michael de Adder brings you through how
current events and ideas coalesce to become his cartoons that
appear in several newspapers and on-line; and how much research goes into making a best-selling book called "You might be from Canada if…"
See you on Sunday for the main event at Alderney Landing!