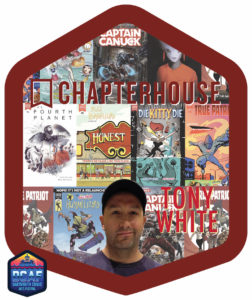 Tony White of Chapterhouse Comics will be at DCAF 2017!
Tony is a Dad of two lovely geek girls, the husband of the most patient woman he knows and a Halifax
based Editor for Canada's largest comic book publisher, Chapterhouse Comics. During his time with the
publisher, he has helmed some of the company's most popular titles, like Captain Canuck, All New Classic Captain Canuck, Northguard, the Chapterhouse 2016 Summer Special & Die Kitty Die with involvement
in new, recently released titles, Freelance and Agents of PACT.
His latest editorial endeavours are in the May 2017 Free Comic Book Day issue of Captain Canuck also featuring Die Kitty Die and anthology series, True Patriot Presents.
Currently, Tony has moved into the role of Managing Editor for Chapterhouse Comics with responsibilities
including creator owned titles like Spirit Leaves, the Fourth Planet, the Pitiful Human-Lizard, Life Death and Sorcery, True Patriot Presents as well as Die Kitty Die.
In addition to that, he is helping to launch the paperback publishing division of the company with new authors from across Canada.
He is always eager to find new projects by talented creators wherever he goes.
In his spare time he complains about having too many pets and enjoys microblogging about craft beers.
Follow him on Twitter @CanuckTony
Follow Chapterhouse on Twitter @chapterhouseca
Founded in Toronto, Ontario, in 2015, Chapterhouse Comics is a vital new voice in genre entertainment,
with a wealth of amazing characters in comics, prose, and animation, and ambitious plans to expand into live action.
Chapterhouse provides a venue for some of the best creative voices from Canada and the world,
both in our superhero universe and in our line of inspiring and inventive creator-owned titles such as Die Kitty Die, Spirit Leaves, True Patriot, and The Fourth Planet.
www.chapterhouse.ca