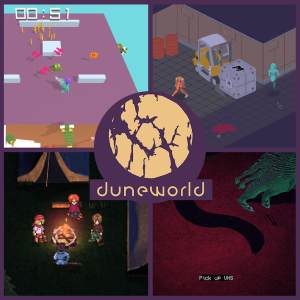 The Dune World is a collective of five individuals: Alex Choiniere, Jeff Fillingham, Dave Baldwin, Evan Hiltz, and Michael Easton.
Based out of Halifax they have made many games and prototypes over the last two years such as: Over My Dead Body, Zono-Blast, VIDdEO, and Siestarena. They have been featured on sites such as: Rock Paper Shotgun, PC Gamer, and Gamejolt.
Meet the crew at the 4th Annual Dartmouth Comic Arts Festival and try out a few game demos!
More info on Dune World can be found at their website.