Come join Meags as she presents her work and discusses the process of making the definitive graphic novel about this fascinating subject.
Meags will be at the theatre inside the Maritime Museum of the Atlantic, Lower Water Street in downtown Halifax on Friday, August 15th from 7 to 9 PM.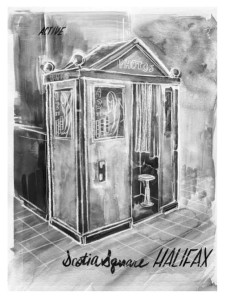 For almost a century chemical photobooths have occupied public spaces, giving people the opportunity to quickly take inexpensive, quality photos. In the last decade these machines have started to rapidly disappear, causing an eclectic group of individu- als from around the world to come together and respond. Illus- trator, writer and long-time photobooth lover, Meags Fitzgerald has chronicled the photobooth's fortuitous history and the events which gave rise to the desperate need to save them. Having trav- eled in North America, Europe and Australia, she's constructed
a biography of the booth through the eyes of technicians, owners, collectors, artists and fanatics. In this ground-breaking book Fitzgerald struggles with her own relationship to these fleeting machines, while looking to the future.
Meags Fitzgerald is an artist and storyteller who draws, animates, writes and performs. Working primarily as an illustrator, she has a BFA from the Alberta College of Art + Design and a certificate in Design from the Nova Scotia College of Art + Design University.
"[H]er passion speaks to powerful universal themes relating to art and memory" — Publishers Weekly
"Easily one of the best books in recent memory. Rarely has a creator depicted so masterfully — and, might I add, positively — the mindset and sheer love that goes into collecting. If you give this book a chance, and I hope you will, I imagine you'll be surprised to find that not only is Photobooth exceptionally readable, but that it's also one of the most intensely moving books to emerge this year." — Comics Alternative
https://www.facebook.com/events/590843274370546/?ref=3&ref_newsfeed_story_type=regular