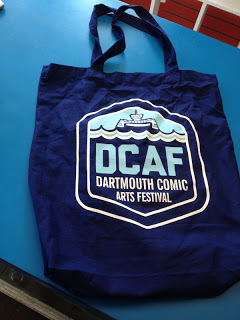 Greetings! The second annual Dartmouth Comic Arts Festival (DCAF) is scheduled for Sunday, August 18th from 11AM to 5PM at Alderney Landing! Last year's event saw hundreds of people of all ages enjoying the one-day festival of cartooning and comics. Again this year, there is no admission charge to ensure the largest possible audience. The facebook event page is here:
https://www.facebook.com/events/157229537790766/
If you would like to apply for a table at the festival, please email "
calum@strangeadventures.com
" with the following information: Name, contact email and/or phone number, what it is you'd like to sell or display at DCAF, Applications are open until June 21st, 2013. Confirmations will be sent during the last week of June. Priority will be given to vendors and exhibitors who are displaying/selling/making comics and cartoon art. Please note that DCAF is an all-ages, family-friendly show. We ask that any adult materials be displayed with discretion. Table size is roughly 8 ft. X 2.5 ft. Tables and chairs are provided, you may wish to bring your own table covering. Tables are $50 each or $30 for a half-table. Set up starts at 9AM on Sunday, August 18th at Alderney Landing. Thank you for your kind attention, calum